Database for Indigenous Cultural Evolution (DICE)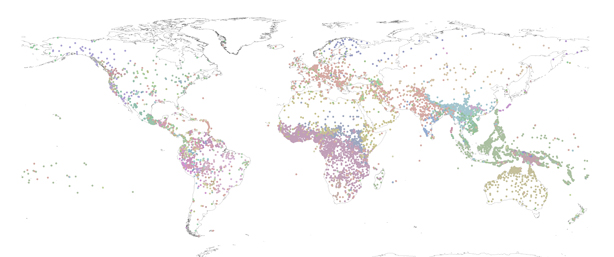 Studies of cultural adaptation and evolution are important for advancing our knowledge of what it means to be human and to help us move towards a richer explanation of human variation. Linguistic phylogenies based on basic vocabulary words are extremely useful for understanding trajectories of cultural change that led to the diversity of human cultural variation around the world. While considerable progress has been made in understanding cultural evolution using linguistic phylogenies, rigorous phylogenetic methods have not been previously applied in a systematic fashion to all of the world's language families using a broad array of cultural variables. The Database for Indigenous Cultural Evolution (DICE) aims to fill this need by providing a comprehensive open-access database of human cultural variation.
DICE is being assembled by University of Missouri students under the direction of Rob Walker and includes datasets and questionnaires describing cultural variation around the world. The final goal is to include information for all of the world's cultures. Anyone wanting to contribute cultural data (download questionnaire template in pdf), and/or to correct any of the data contained herein, especially those with first hand field experience or extensive knowledge of relevant literature, are encouraged to send information to Rob Walker at walkerro@missouri.edu.
Opportunities for Students
Students interested in filling out ethnographic questionnaires are encouraged to contact Rob Walker (walkerro@missouri.edu). Duties involve web and library searches to compile ethnographic information. Benefits include hands-on research experience, college credit (Anthro 2950 Research Skills in Anthropology, 1-3 credit hours), and potential authorship on scientific articles. Helpful tips and websites for quickly finding cultural information are available here (pdf).
---